Wuhan University is located in Wuhan, Hubei, China, and is administered by the Ministry of Education of the People's Republic of China. It was selected by both Project 985 and Project 211 as a major receiver of state funding. The university is situated at Luojia Hill, with palatial buildings blending the Chinese and Western style. It was commonly regarded as one of the most beautiful campuses in China. On August 2, 2000, with the approval of the State Council of the People's Republic of China, the new Wuhan University was established as a combination of four major universities close together ---- the former Wuhan University, the former Wuhan University of Hydraulic and Electrical Engineering (WUHEE), the former Wuhan Technical University of Surveying and Mapping (WTUSM) and the former Hubei Medical University (HBMU).
History
: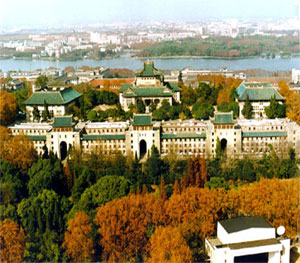 The university dates back to the Ziqiang Institute which was founded in 1893 by Zhang Zhidong, governor of Hubei and Hunan Provinces in the late Qing Dynasty. Later, it changed its name several times before it was named National Wuhan University in July 1928, and was among the first group of national universities in modern China. In Feb, 1929, the jurist Wang Shijie became the first president of Wuhan University. During the War of Resistance Against Japan, Wuhan University moved to Leshan, Sichuan Province and returned to Luojia Hill after the war.

By the end of 1946, the university had six Faculties: the Faculties of liberal arts, law, sciences, engineering, agriculture and medicine. Wuhan University enjoyed a very high academic status, with Wang Shijie, Wang Xinggong and Zhou Gengsheng as its successive presidents.

A number of scholars such as Gu Hongming, Zhu Kezhen, Wu Baoliang, Zha Qian, Gui Zhiting, Ye Yage, Li Siguang, Wen Yiduo, Huang Kan, Yu Dafu, Shen Congwen, Zhu Guangqian, Liu Ze, Liu Yongji, Ye Shengtao, Yang Duanliu and Li Jiannong taught here successively. According to the university, in 1948, the University of Oxford wrote an official letter to the Ministry of Education of the Chinese National Government, stating that bachelors of liberal arts and sciences that graduated from Wuhan University with average grades above 80 could enjoy "the senior status of Oxford.

A Notice given to Wuhan University that it will be taken under the Communist's control.


In 1952, after a general reshuffle of the colleges and departments of the higher educational institutions throughout the country, Wuhan University became a university of liberal arts and sciences directly under the administration of the Ministry of Higher Education. Professor Li Da, Delegate to the First Congress of the Chinese Communist Party and a celebrated philosopher, economist and academician of the Chinese Academy of Sciences, held the post of president of the university for 14 years. The Wuhan University School of Medicine and Tongji University Medical School jointly formed Central-south Tongji Medical College (later Wuhan Medical College), then Tongji Medical University.
Campus
The university has rolling physical features with the scenic Luojia Hill and the beautiful East Lake. Its campus is heavily wooded and green, with fragrant flowers everywhere year-round. Wuhan University is widely known as one of the most beautiful universities in China, especially for its cherry blossom garden in the spring. A cherry blossom festival is held every spring. Most stylish old buildings were designed by F. H. Kales (1899–1979). Educated in MIT, Mr. Kales was a pioneer to blend western architectural styles with traditional Chinese elements, which is most evident from his roof designs.

Wuhan University boasts a campus covering an area of 5508 mu and has a floor area of 2.42 square kilometers. The university's libraries have a collection of approximately 5.4 million volumes and subscriptions to more than 10,000 Chinese and foreign periodicals.
Clinical Medicine
Clinical Medicine (MBBS) is mainly to train the international students capacities of body structure and function in human beings, human behavior, and normal state of mind; Causes of common diseases and frequently-occurring diseases including mental illnesses, the impact of environmental, social, behavioral and psychological factors on the occurrence and development of diseases and the importance of disease prevention; Pathogenesis, clinical symptoms, diagnosis and preventive ways of common diseases and frequently-occurring diseases; Basic knowledge of pharmacology and clinical principles of rational drug use; Normal pregnancy and delivery, common obstetric emergency treatment, principles of prenatal and postnatal health care, and family planning; Health education and disease prevention, common diseases, disabilities, rehabilitation, hospice care, and general practice; Knowledge of clinical epidemiology; Basic patterns of development and spread of infectious diseases, and prevention of common infectious diseases.
International Student
Since the 1950s, Wuhan University has taken a lead in enrolling international students in China. Ever since then, the university has recruited and trained several thousand foreign students coming from more than 50 different countries and regions worldwide. All students have received systematic training and a substantial part of them have earned Bachelor's, Master's or Doctoral Degree. At present there are over 1800 long-term international students at Wuhan University, and half of them are actively pursuing degrees.

Wuhan University accepts international students into its Bachelor, Master, Doctoral programs as well as other advanced programs in liberal arts, sciences, and medicine. The university also provides a special Bachelor of Arts program called the Chinese Language for International Students and there have been seven groups of graduates from the program. Besides all levels of Chinese language teaching, the university provides courses such as Chinese literature, Chinese history, Chinese economy, Chinese philosophy and Chinese law for international students. To fulfill their different requirements, these courses will introduce basic knowledge of the society, economy, history and culture of China.

The College of Foreign Students Education (also known as the Foreign Students Education School - FSES) of Wuhan University is a dedicated school for foreign students enrollment, administration and management, as well as the Chinese language teaching and training. It is also one of the few centers for HSK examination and for the qualification examination for the teachers teaching Chinese language to foreigners in China. The college, with abundant teaching resources and quality teaching and scientific research strength, has 25 teachers giving Chinese language courses to foreigners. Among them, 15 are professors or associate professors, 4 are the members of the World Chinese Language Society for Foreigners, and 23 are the members of China Chinese Language Society for Foreigners.
Accommodation
Students are provided with a high standard accommodation facility with each room attached with a balcony and a bathroom with cable TV, electricity, fast Internet access, telephone, washing machine, air-conditioner, shower machine, water dispenser, bathroom with hot/cold water shower, bed, beddings, desks, closets and chairs. There are separate hostel for boys and girls with high security arrangement and strict prohibition for boys to enter girls hostel and girls enter boys' hostel.

Accommodation Fee: Each room 4000 -10000 RMB per person per Year.
Fee Structures
Clinical Medicine – 32000 RMB/Year (Duration 5 + 1Year) English Medium 29,000 RMB/Year (Duration 5 Year) Chinese Medium

MS/MD (Master degree) – 50,000 RMB/Year (Duration -3 Years) English Medium