The Sumy State University (SSU) is located in Sumy Oblast, in the historical region of Slobodan Ukraine. According to the Webometrics Rating, Sumy State University ranks 6th in worldwide Internet rating among Ukrainian institutes of higher education (in July, 2012).

SU history is closely connected with history of Public Joint Stock Company «Sumy Frunze Machine-Building Science and Production Association». During this period the foundation of Academic and Support Services (ASS) of Moscow Metal Industry Correspondence Institute (Moscow State University of Instrument Engineering and Computer Science) began. Due to the organization of Ukrainian Correspondence Polytechnic Institute (UCPI), ASS became UCPI branch in 1958. On May 1960 Sumy General Technical Faculty on the basis of Ukrainian Correspondence Polytechnic Institute (UCPI) was established. In 1965 Faculty became a branch of Kharkiv Polytechnic Institute (National Technical University "Kharkiv Polytechnic Institute"). In 1966 the educational institution in Sumy was reorganized into a branch of the Kharkiv Polytechnic Institute. In 1990 the branch was renamed the Sumy Institute of Physics and Technology. In 1993 the Sumy Institute of Physics and Technology was awarded the status of State University.

About 85 Doctors of sciences, more than 535 candidates of sciences, associate Professors work at the university.

Students

13,446 students are enrolled. About 1240 Foreign students from almost 50 countries, Including the USA, Western Europe, Australia, and all regions of Africa and Asia, are studying at Sumy State University.

International relations
SSU is a member of Magna Charta Universitatum, International Association of Universities, European University Association, Eurasian Association of Universities, and the World Health Organization.

It has close international relations with leading university and scientific organizations in Poland, the Czech Republic, Slovakia, Germany, Slovenia and Russia.

Annually SSU carries out about 400 scientific agreements, contracts and carries out over 70 international grants. SSU activity directs to the integration into scientific and education sphere. SSU has about 100 hundred partners and about 1240 foreign students, academic mobility, active scientific development cooperation with foreign universities, associations and funds, program of dual diplomas with European institutions of higher education.
Medical Institute Provides
Close cooperation with leading medical educational institutions and hospitals of Ukraine (P.L.Shupik National Medical Academy of Post-Graduate Education, Institute of Children and Adolescents Health Care of the Academy of Medical Sciences of Ukraine etc.);
Fundamental and applied medical science research;
Academic process, based on the credit-module-rating system (ECTS – European Credit Transfer System). Due to that, professional training of our medical students meets European education standards (Bolognese process). It enables our students to master medical specialization at any higher educational establishment of Europe;
The Ukrainian, English, Russian languages of studying;
International conferences, academic exchange, summer students trainee in USA and Turkey;
Sumy State University holds top-position in the Ukrainian universities rate (according to results of the All-Ukrainian Contest of students' research papers on medical sciences and according to great number of winners at All-Ukrainian Students Competitions);
Immutably high level of knowledge of students and interns (according to licensed tests "Step-1", "Step-2", "Step-3" held by Ministry of Health Care of Ukraine); Opportunity of simultaneous studying at the Department of Military Training of Sumy State University;
First working place for graduates is ensured;
Issuing a magazine "Sumy State University bulletin", series "Medicine", recognized by Highest Attestation Commission of Ukraine;
Schooling professionals at Master academic programmes, clinical studies and postgraduate courses;
Medical Institute gives an opportunity to master honorable profession of a doctor.
Medical Institute provides schooling with specialization in "General medicine". 6 years of studying results in receiving higher medical education of a state standard.

Studying at postgraduate medical faculty, students can specialize in internship and Master Courses on variety of medical specialties: family medicine, therapy, surgery, obstetrics and gynecology, infectious diseases etc.
Accommodation
The SSU students' city consists of four hostels where 840 students live. All students who want to live in a hostel as well as student families are provided with hostelries.

The University Residence has provided an excellent service which has met the living needs of thousands of long term and short term stay clients. This facility has built an enviable reputation for its services and is recognized for its exceptional value-for-money.

The University has recently opened a hostel which provides excellent residential facilities . The hostel each room is attached with kitchen is provided for students to cook food to their own taste. Students will need to supply their own kitchen utensils. Meals may be bought from various food outlets. All the rooms are provided with heaters. Our hostels feature 24-hour access to security and emergency services, making it easy to get assistance when you need it.

The University Residence provides University students with modern, fully serviced and comfortable accommodation. Continuous investment is made to ensure that the facilities serve the student within the context of a modern academic residence.
Library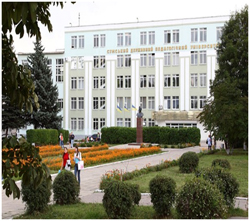 The library is an important structural unit, which provides educational, scientific-research and educative processes with information in the university. It is also the cultural centre of the university.

The important role in providing students and staff members with the teaching literature belongs to the University's library. The scientific library of the University is an auxiliary for teaching, scientific, informational and culturally enlightening division.

The library work is purposed for building and protecting of book stocks and meeting the readers' needs and the tasks of teaching and research processes with most possible effectiveness. One of the main tasks of the library is supporting the teaching process and the independent work of the students, which requires an effective interaction with the Teaching division, dean's offices and departments. The stock formation sector and the textbook loan system keep the card-catalogue reflecting the extent to which the teaching process is provided with books.

There are several electronic reading hall connected with the University data bank and Internet. Its reference and information facilities are also open to the public.

You can find the information about the library arrangements in the university or library Informational bulletins which issue every month.
Fee detail
MEDICINE COURSE: 6 years
STOMATOLOGY: 5 years

Tuition Fee: 3700$
Accommodation & Medical Insurance: Total 500$