Guangxi Medical University is located in Nanning, Guangxi, China and is one of the oldest higher education medical institutions in China. In 2010, the university was voted one of the top 20 universities in China for medicine study. The university was established in Nanning, Guangxi on 21 November 1934 as the Guangxi Provincial Medical School, and the campus was moved to Guilin in November 1949, shortly after the establishment of the People's Republic of China. The university is one of the first universities in China to accept international students into its English language medical education program, which is limited only in clinical medicine. School of international education is one school of GMU which provides a pathway to education for international students. It has warmly welcomed international students from over 54 countries during the past 30 years. And now 509 international students from 20 countries all over the world has been studying medical science or Chinese language at the moment.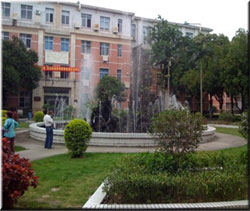 Established in 1934, the university is one of the first universities in China to accept international students into its English language medical education program, which is limited only to clinical medicine. Foreign students on scholarship are required to study all their courses in Mandarin Chinese. The University now is composed of 22 schools, 1 education department, 10 three-A level (in Chinese three–tiered category) affiliated hospitals (including 7 subordinate hospitals), 48 teaching and interning bases. Among them, the First Affiliated Hospital is one of the top 100 hospital in China, and the largest Hospital in Guangxi. The Tumor Hospital and the Affiliated Hospital of Stomatology are the largest three-A level specialist hospital, and all of the three hospitals are awarded "trustworthy hospital" by government.
Campus
The campus has a total area of 400,000 square meters, which includes teaching buildings and dormitories for Chinese students, international students and teaching staff, a library, food halls, an indoor tennis hall, a swimming pool and laboratories.

The campus is located near the First Affiliated Hospital of Guangxi Medical University, which is the largest hospital in Guangxi Zhuang Autonomous Region, and the Institute of Dentistry.
Programmes
There are nine 5-year undergraduate programs offered by the Guangxi Medical University, including clinical medicine, preventive medicine, stomatology, pharmacy, nursing, dentistry, and seven 3-year college specialties including nursing, pharmacy, community medical care and cosmetology.

International education has shown a rapid development since the university begin to accept international students, whether for language study or enrolling in clinical medicine program, which offers the MBBS title for undergraduate students. Most international students come from Vietnam, which is located only a one-hour bus ride from Nanning. However, Vietnamese students primarily attend Chinese language classes. International students who attend the English language classes come from India, Indonesia, Nepal, and Mauritius. Lately there are also international students from Somalia, Yemen, Kenya, Nigeria, Namibia, Thailand, and Libya.

As of September 2008, the clinical medicine in English program will be altered a 6-year long programme.
Scholarship for Non-Chinese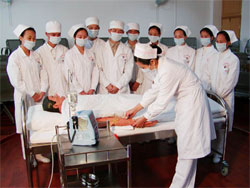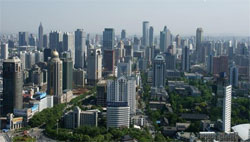 Chinese Government Scholarship scheme was established by the Ministry of Education of China (hereinafter referred to as MOEC) in accordance with educational exchange agreements or understandings reached between the Chinese government and the governments of other countries, educational organ, institutions and relevant international organizations to provide full scholarship and partial scholarship to international students and scholars. China Scholarship Council (hereinafter referred to as CSC) administers the recruitment of international students and the routine management of the Chinese Government Scholarship scheme. According to the regulation of MOEC, all Chinese Government Scholarship bachelor students will be conducted in Chinese. Applicants with no command of Chinese are generally required to take Chinese language courses for 1-2 years before their major studies. If the courses for doctoral and master degree students could be conducted in English, remedial Chinese study will not be arranged. Eligibility for scholarship Applicants must be non-Chinese nationals in good health and Applicants for undergraduate studies must have completed senior high school with good grade and be under the age of 25.
Accommodation
The cost varies based upon the facilities in the total 6 building and the room in university campus. Kitchen, bathroom, water heater, air-conditioning, TV, refrigerator, washing machine, IC phone are available in all room. Both single and double rooms are available. You can choose the building and room type on arrival at the University based upon your needs and budget.

Lodging Fee – 4500 – 6000 RMB/Year
Fee Structures
Tuition for Undergraduates Program in English: 30000/ Year, Duration – 5 Years
Tuition for Undergraduates Program in Chinese: 23000 / Year, Duration -4 or 5 Years
Tuition for Postgraduates Program in English: 30000/ Year, Duration – 3 Years
Food – 5000 RMB/Year
Resident Permit – 400 RMB/Year