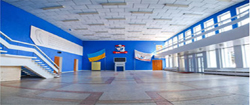 Oles Honchar Dnepropetrovsk National University is one of the leading establishments of higher education in Ukraine. It was founded in 1918. The first four faculties were history and linguistics, law, medicine and physics and mathematics.

Nowadays the university has level IV accreditation, with 20 faculties and nearly 1,300 professors, 850 of them PhDs. The university has about 22,000 Ukrainian students and offers 87 majors. It has about 3,000 international students from 20 countries.

It has strong ties with one of the largest world's rocket space centers, Yuzhnoye Design Bureau,and other major industrial and scientific organizations in the Donetsk-Pridneprovsk area with population of more than 15 million people. Being a big educational and research center, DNU provides training of all qualifications levels: Master's degree, Specialist's degree, Bachelor's degree. It prepares researchers and university teachers at the post-graduate and doctor of science courses. One can obtain the second higher education.
Courses Offered
Dnepropetrovsk State Medical University provides training to students in all seven faculties and preparatory department for foreign citizens. The faculties are following:
General Medicine
Pediatrics
Management of Public Health
Dentistry
Pharmacy
Nursing
Postgraduate Education
Preparatory faculty for foreign Citizens
The Academy trains specialists in all faculties in English, Russian and Ukrainian languages.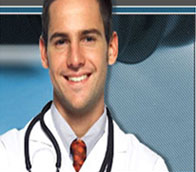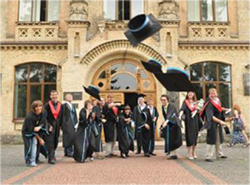 Oles Honchar Dnepropetrovsk National University boasts its enormous army of alumni. For the whole period of the university functioning about a hundred thousand specialists without whom one could hardly fancy any sphere of our life have been prepared. Among them there are statesmen, public figures, heads of enterprises and institutions of science and culture, schools, commercial enterprises; famous scientists, teachers, journalists.

According to the decision of the Intersectorial Accreditation Collegiums and to the order of the Ministry of Sciences and Education of Ukraine Dnepropetrovsk National University has been accredited as a higher institution of the 4-th level accreditation.

According to the UNESCO poll DNU takes the 6-th place of all Ukrainian higher education institutes due to its academic and research indexes.

At present DNU has 63 agreements with higher education institutes and research centers MBBS Admission in Ukraine universityMBBS Admission in Ukraine universityfrom many countries of Europe, Asia, the USA, Canada. Almost since the beginning of TEMPUS Program's activity in Ukraine the DNU has joined its work. The first project on reforming of economic was won in 1993. Since there the DNU has won 14 projects (including three more Tempus projects in 2009) for the terms from 1 till 3 years in different sectors of science and education such as economics, management, university managements, social informatics and international economics. Due to this indicator the DNU is a regional leader. The DNU's University Library has 2 600 000 volumes and computer library rooms. DNU has enough computer rooms with high-speed fiberglass access to the Internet, so all visitors can be provided by computer working place. DNU library with several millions books is one of biggest in the region and can supply all educational needs of guests. Since 2007 DNU has been taking part in Erasmus Mundus Project "External Cooperation Window" which is closely corresponded to DNU's development plan. First, in the plan there is a special paragraph about development of close relations with EU universities, strengthening of exchange programmes. Second, the participation should contribute in realization of the item of raising the level of professional skills of DNU teachers and improving the style of teaching. And, third, the project can give us a possibility of progress in implementation of Bologna stand arts, including ECTS, quality assurance, etc.
Dnepropetrovsk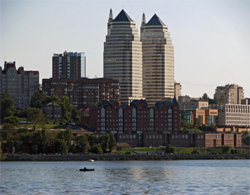 Dnipropetrovsk - simply Dnepr, as it is called by local inhabitants is a dynamic and lively city. It is the largesMBBS Admission in Ukraine universityt center of Prydniprovye (Historical region of Dnipropetrovsk, part of Zaporozhye and Kirovograd regions. The city of Dnepropetrovsk is is the main Industrial city of Ukraine.Above than 40% industry of Ukraine is loacted in Dnipropetrovsk. It is known as the business city of Ukraine.The city is highly developed and well established in all aspects of life. The city is surprising green along the wide and slow-moving Dnieper river (Dnepr in Russian, Dnipro in Ukrainian). The city has remarkable embankments, long boulevards and spacious parks.

It is also the centre of high-technology industries, education, machine-building, metallurgy and trade. The city is not only famous for its commercial industry, but also its green hills and deep history.
GENERAL MEDICINE (MD/MBBS)
Duration: 6 years
Tuition fee for English medium: 3500 US$/every year
Tuition fee for Russian medium: 2500 US$/every year
Students who are going to join Medicine Faculty in English Medium will pay the following charges except tuition fee:

Accommodation: 1000 US$ every year
Medical Insurance: 100 US$
DENTISTRY / STOMATOLOGY (B.D.S)
Duration: 5 years
Tuition fee for English medium: 3500 US$/every year
Tuition fee for Russian medium: 2800 US$/every year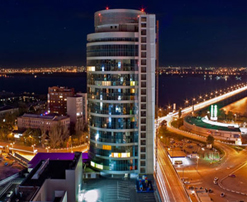 Students who are going to join Faculty of Dentistry in English medium will pay the followMBBS Admission in Ukraine universitying charges except tuition fee:

Accommodation: 1000 US$ every year
Medical Insurance: 100US$



ACCOMMODATION
HOSTEL CHARGES PER YEAR: 700 or 1000 US$(different charges for two hostels)

It is the responsibility of the student to be familiar with the University regulations and financial matters.

Every student should must pay his/her complete first year expenses upon arrival in University. If student will not be able to pay the complete first year charges then he/she will be sent back to home.